| class="wikia-infobox-image" colspan="2" |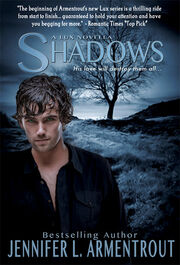 Author
Jennifer L. Armentrout
Publisher
Entangled Teen
Date Published
February 21, 2012

Publication Order

Next
Obsidian
Shadows is the prequel to Obsidian, and is the first novella of the Lux series written by Jennifer Armentrout. It is told from Dawson's point of view. This is the story of how Dawson fell in love with Bethany( a human) and then they are at the end dead.
The last thing Dawson Black was expecting was Bethany Williams. As a Luxen, an alien life form on earth, human girls were... well, fun. But since the Luxen have to keep their identity a secret, falling for one would be insane.
Dangerous. Tempting. Undeniable.
Bethany can't deny the immediate connection between her and Dawson. Even though boys aren't a complication she wants, she can't stay away from him. Still, whenever their eyes lock, she's drawn in.
Captivated. Lured. Loved.
Dawson is keeping a secret that will change her existence... and put her life in jeopardy. But even he can't stop risking everything for one human girl. Or from a fate as unavoidable as love itself.
Detailed Plot here...
Characters
Edit
Community content is available under
CC-BY-SA
unless otherwise noted.